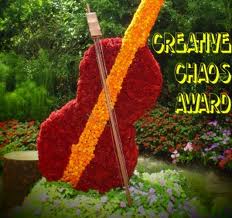 Firstly: Thank the person who gave you the Award.
Secondly: Take your best shot at the 3 tasks listed below.
Thirdly: Nominate 5 people who recently followed your blog.
Many thanks to Sirenia, who passed on this award to me. This was a new and fun one! I am delighted to receive this, Sirenia, thank you very much! 🙂
First Task: Three weird things I / you do:
1. I see numbers as symmetrical combinations and musical tones or phrases – phone numbers, the odometer, anything!
2. I always slice and dice my apple before eating it.
3. When leaving the house I check for my wallet, keys, cellphone and my nose… as long as it's still attached I'm OK!
Second Task:
You must tell why you look at the "glass half full" scenario and ask "what? No coffee?"
I don't drink coffee so no coffee is alright by me. No OJ, tea or ale on the other hand and I might forget if the glass is half full or half empty and just wig out. What fun would life be without something to look forward to?? I'm awake half the night anyway, and "what, no coffee?"
Third Task:
You find yourself in a desolate place when your car breaks down. You have no cellphone service, no Walmart, and only a candy bar for food. It is 150 miles to the closest town. What colour are your pants and why?
Speaking from experience, khaki shorts for comfort in the Texas summer heat. Nice to have a book on hand to read while sitting on the side of the road as all the cars I might have passed miles before wave and leave me behind! 🙂
So people? It`s your turn, tell us, what is the colour of your knickers?
Deb
Soma
Ingrid
Fergiemoto
Francina