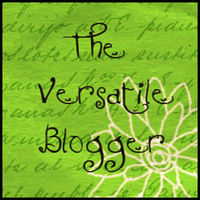 Today I find myself performing the delightful activity of juggling award nominations.  First up is the 
Versatile Blogger Award 
which was originally conveyed by my lovely friend 
Debbie Adams
.  Since then I have received the honor by friends
Steph
on April 20 and
Candy
on April 26.
I am honored and encouraged by their support and I thank them for the award!  Each offer something unique, practical and inspiring on their blogs and I recommend you take the time to visit.  I certainly enjoy following them!
Now for the rules:
1) Nominate 15 fellow bloggers
2) Inform bloggers of their nomination
3) Share 7 random things about yourself
4) Thank the blogger who nominated you
5) Place versatile blogger award on your blog post
The Seven things about me…
1) I enjoy watching most sports, especially football and baseball.
2) I grew up in a baseball town and the St. Louis Cardinals will always be number one!
3) I often think about how I would score (musically interpret) unique objects or vistas.
4) One reason I'm a Third: my grandfather was born on the 14th, my dad on the 15th and I on the 16th.
5) Avoid vice, pursue virtue.
6) Sometimes it is easier to give advice than to live by it!
7) Have I mentioned dark chocolate??
Now for the nominees.
It is always difficult to narrow the field, especially from a list of such great blogs.  So, I am spreading cheer to these and will include more in other nominations.  You do not have to accept this award, as I understand that some of you do not do this sort of thing…and that is okay with me. To those who do…congrats!
The Nominees are…
If you do not accept this award this is okay…Please do not feel obligated, as I know some on this list do not participate in these matters.