I was delighted to receive this award from the very talented writer Sirenia (http://myownavalon.wordpress.com/), the Beautiful Blog Award. Many thanks, Sirenia, for thinking of me for this award! I always enjoy reading Sirenia's illuminating poetry and I avidly recommend her blog.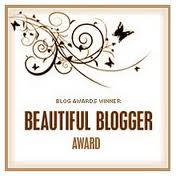 Instructions for the award:
1. Thank the person who gave you the award
2. Paste the award on your blog
3. Link the person who nominated you for the award
4. Nominate 7 bloggers or less
5. Post links to the 7 blogs you nominated

Nominating is a challenge with so many wonderful blogs. I would like to include all of them, of course, but the list would be too long, so here are my nominees in no particular order:

http://niltsi.com/
http://therightmood.wordpress.com/
http://lscotthoughts.com/
http://augustmclaughlin.wordpress.com/
http://fivereflections.wordpress.com/
http://thoughtsontheatre.wordpress.com/
http://somkritya.wordpress.com/
http://ericalaganfanclub.wordpress.com/

Please visit those nominated when you get a chance!