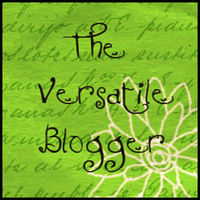 I was recently nominated for the Versatile Blogger Award by my lovely friend Debbie Adams. When I started my blog I never anticipated such a fantastic response and Deb has been especially supportive. I am honored and humbled and I thank you for the award!
For those of you who do not know Deb I recommend you take the time to visit her blog. She is a wonderful artist and a charming person who sees the good in life. I enjoy all of her posts!
Now for the rules:
1) Nominate 15 fellow bloggers
2) Inform bloggers of their nomination
3) Share 7 random things about yourself
4) Thank the blogger who nominated you
5) Place versatile blogger award on your blog post
The Seven things about me…
1) My first guitar was won by my uncle in a card game while serving in the army-air force.
2) I am intrigued by knights and quests and especially Arthurian history.
3) I am German-Austrian with a little French mixed in.
4) I enjoy model trains (one of my dad's hobbies), although they are boxed up for now.
5) I love the outdoors…hiking, snowshoeing, kayaking, sailing, disc golf, whatever.
6) I try to stay fit so I can eat a cheeseburger when I feel like it!
7) A day is not complete without dark chocolate!
Now for the nominees.
For this award I am going to follow Deb's example and select my overall blogroll. I enjoy following each of you and would like to share this recognition across the board. However, if you see your name on the list of nominees and choose to accept this award, which is not required of you, you do not have to put your whole blogroll in as I do. So to the following people I am telling you all that I think you're all great, and you do not have to accept this award, as I understand that some of you do not do this sort of thing…and that is okay with me. To those who do…congrats!
The Nominees are…
PhotoBotos.com
Dean J. Baker – Poetry, and prose poems
Writing with both sides of my brain
Craig Hill
Nature's Hues
Radhika Bauerle Radhika Puranam
Poems and Art by Jason
Poetic Invocation
dranthonysblog
Convergent Journey
Guitarmonk
TheCoevas official blog
http://momentmatters.wordpress.com
Simple Pleasures~
Live2EatEat2Live Blog
n e w d i g i t a l s c a p e s
Limeisbetter
Gabrielle Angel and Autumn Sunshine
Clover's pages
poeticjourney251
WARRIOR POET WISDOM
Redwater Ramblings
yellow house cafe
Certainly not lost down under
Story Artisan
hope wabuke
Make Believe Boutique
insidethebirdcage
Written Words Never Die
Finding Order in Chaos
Stephen L Tabone Nature Photography
art-profiles.com
thoughtsontheatre
Evoking the Deep
Blood Ink Diary
The Better Man Project
My Own Avalon
nicepoethere
somkritya
Tracie Louise Photography
PHOTOBLOG
Five Reflections
August McLaughlin's Blog
Debbie Adams
Ben Naga
Not a Diet Story
Live simply, travel lightly, love passionately & don't forget to breathe
LSCOTT POETRY
30 Minute Art
Lost in Town
Creativity Aroused
~ Season's Light ~
Seasonings
The right mood
Niltsi's Spirit
Lead.Learn.Live.
Seasons Poetry
Music for Films – Newsletter
PhotoBotos.com
I Am Not Defined
ooamerica: ooa's USA Road-Trip
Threadbare Gypsy Soul
Thomas Mangan:
English at Westminster
If you do not accept this award this is okay…Please do not feel obligated, as I know some on this list do not participate in these matters.